This article was originally published in the Toronto Star. It has been reproduced with permission.
As part of its response to the COVID-19 pandemic, the Government of Canada recently launched a three-year plan to invest as much as $100 billion to make the economy greener, more innovative, more inclusive, and more competitive. While that figure may be eye-popping for many Canadians, it's directly aligned with global trends toward greater sustainability and the advisory priorities of business consultancy firms like MNP.
The national accounting, tax and business consulting firm has been advising clients in the private, public, and non-profit sectors on how to align operations with environmental, social and governance (ESG) best practices.
ESG has gained prominence of late as a barometer of an organization's ability to manage sustainability risk. ESG initiatives can help boost enterprise value, stakeholder engagement and investment — as well as enhance brand identity and serve as a meaningful approach to differentiation. Its principles embrace everything from emissions reduction and waste management to improving transparency of diversity and inclusion within operations and throughout an organization's value chain.
"Individual organizations need to think about the aspects of ESG that are specifically important to them and that are not just binary yes or no choices," says Mary Larson, MNP's national consulting leader for organizational renewal and strategy.
"If you decide you're going to do something important around supply chain integrity or reducing energy or water usage in your manufacturing processes, for example — and you're making real progress along those lines — investors and customers will start to pay attention."
Indeed, as people understand more about their place in an interconnected world, demands for organizations to act in a more responsible, equitable and sustainable way are becoming ever louder.
This is particularly true of investors: a Canadian Investor Relations Institute (CIRI) survey found 87 percent of stock issuers consider ESG factors important to the success of their companies. The most frequently cited reasons for committing to ESG included enhancing corporate reputation (81 percent of respondents), improving risk management (73 percent) and creating long-term shareholder value (68 percent).
ESG actions speak much louder than words, of course — and therein lies a problem. With just 54 percent of companies surveyed having committed to an ESG policy, MNP's consulting, enterprise risk and organizational renewal teams face a significant challenge in helping Canadian companies catch up. But it's a challenge the firm relishes.
"We accelerate strategic thinking and execution by getting in front of an organization's challenges, asking tough questions, helping teams think differently and using creative processes to devise pathways for long-term success," explains Edward Olson, MNP's leader of environmental, social and governance practices.
"We make it a point to stay in front of changing business environments affecting our clients such as the increased focus on sustainability, including assisting with specific topics such as diversity, equity and inclusion."
But many organizations say they don't know where to begin, or that the myriad global frameworks and standards are overwhelming. How is a company to decide which topics will need to be addressed in their overall ESG strategy?
Larson cautions that specific frameworks and standards tend to be prescriptive in their approach. Rather, she suggests a better starting point is to "step back and consider aspects of the business where there's a significant risk — or upside — in paying attention to dimensions of ESG."
Depending on the nature of the business, these factors might encompass employee safety, risk of fraud, GHG emissions or supply chain integrity.
"Having built an inventory and engaged with stakeholders to understand what is important to them, management and boards can specify those that are financially material," says Larson. "Then it's possible to determine which frameworks and standards to apply, decide on measures and targets for these topics, and make meaningful steps to achieving long-term value creation and success."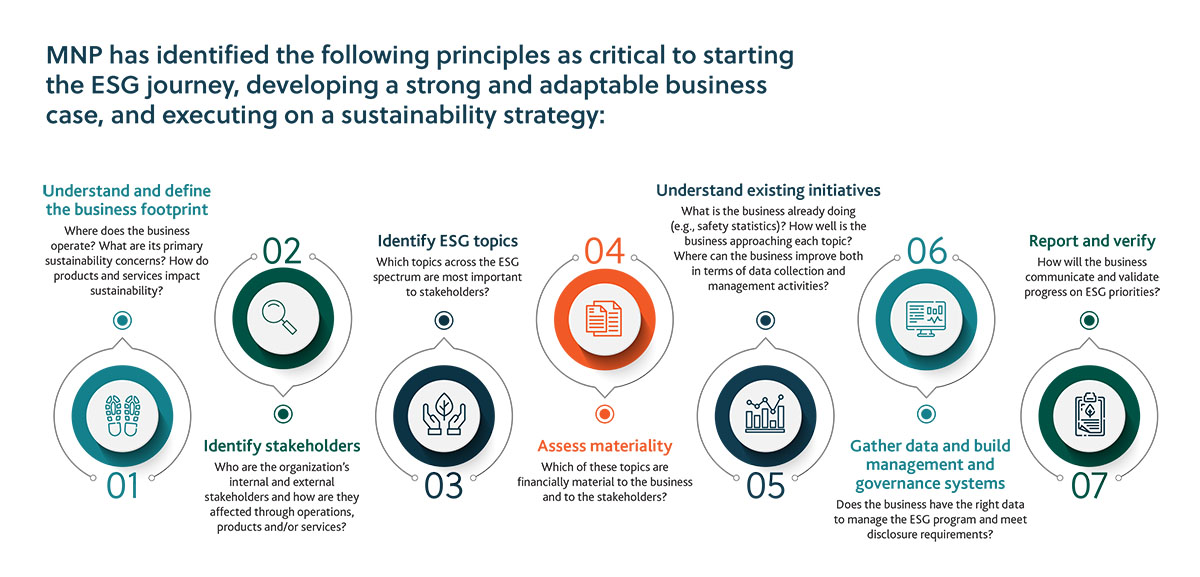 Download
Download the critical principles to starting the ESG journey, developing a strong and adaptable business case, and executing on a sustainability strategy accessible infographic.
Organizations can embed sustainability into their operating environments, their strategy, and their culture by focusing on ESG topics that are most important to stakeholders.
"Only once organizations have moved from an infinite number of perceived ESG topics into a manageable, financially material handful can they begin to realize the benefits of strategic differentiation," says Olson. "Given the lengthy, stepwise process involved, we encourage leaders to begin their ESG journey now — rather than waiting for it to be required by government, regulators or other business drivers."
Larson agrees, adding, "Organizations don't have to be perfect — they need to pinpoint what's important from an ESG standpoint. Once the journey's underway, it's a matter of seeing where the road goes from there."
"MNP provides expert support and guidance as this journey unfolds, and clients can invest as they go along," says Larson.
To learn more about ESG and how it impacts your business, contact Edward Olson or Mary Larson.