Technology is always evolving, and so are the needs of your business. The goals and demands of no two companies are the same — and you need software that can be tailored to the unique requirements of your organization and industry.
When you adopt industry-specific software, you invest in the success of your business by giving it the tools it needs to increase efficiency, reduce costs, and adapt to the specific challenges and opportunities found within your industry.
What is industry-specific software?
Industry-specific software provides you with a set of tools to meet the day-to-day needs of your business. It is a customized software solution that comes equipped with functionality modules to support the unique needs of your specific industry — such as manufacturing or construction.
For example, a business in the manufacturing industry faces unique concerns in purchasing, planning, and forecasting production demands. Industry-specific software such as material resource planning (MRP) solutions are designed to address those concerns and help meet the specific requirements of the manufacturing industry.
There are many different types of industry-specific software solutions, but in this article we'll mainly focus on enterprise resource planning (ERP) systems. ERPs link your applications through a single cloud-based interface to help you plan, manage, and make real-time adjustments to your business operations from anywhere at any time to meet the unique demands of the sector where you operate.
For example, if your business is in the construction industry, the Construction Edition of Acumatica's solution can help you manage:
Contracts
Budgets
Inventory
Order management
Project billing
Payroll
Etc
Cloud-based ERPs can help you streamline operations, increase efficiency, and take the lead in your industry. We have summarized several ways industry-specific software such as ERPs can help your business succeed.
Examples of how industry-specific software can differ
As mentioned above, industry-specific software has been refined and tailored to align with the needs of your sector. For example, Acumatica emphasizes different modules in their solution depending on the industry: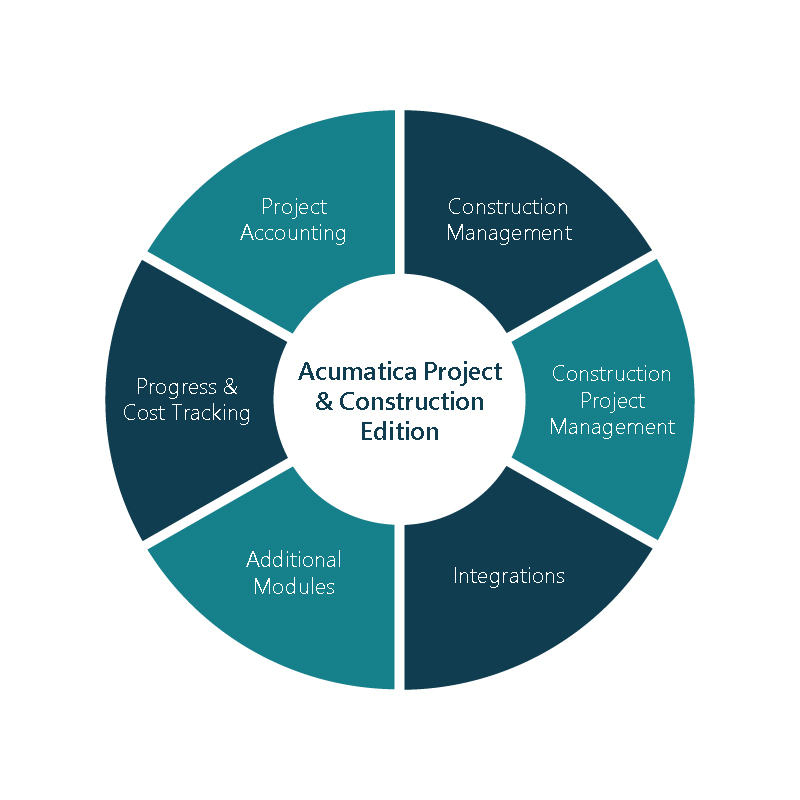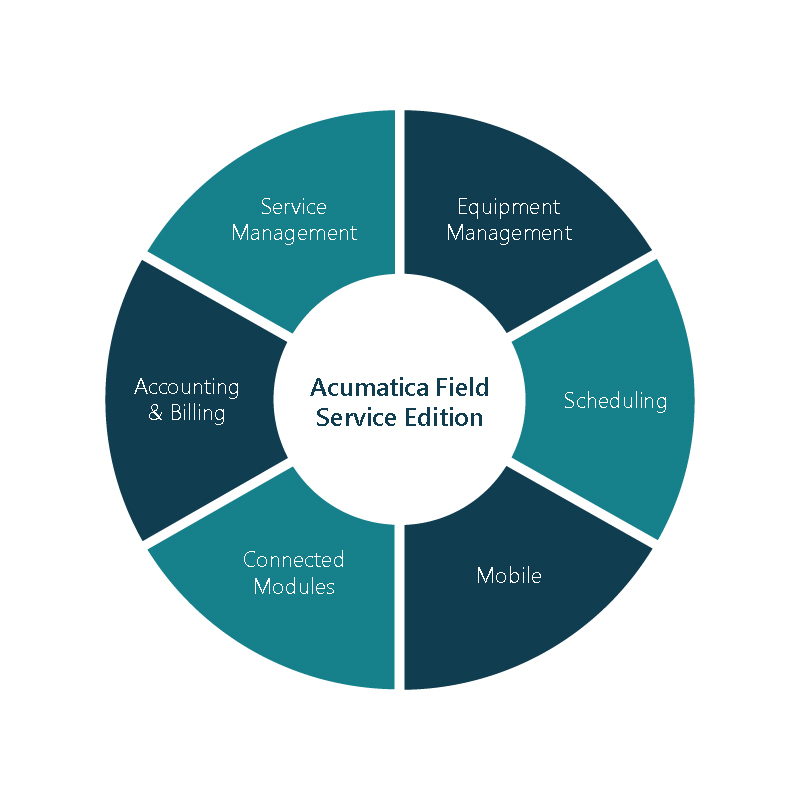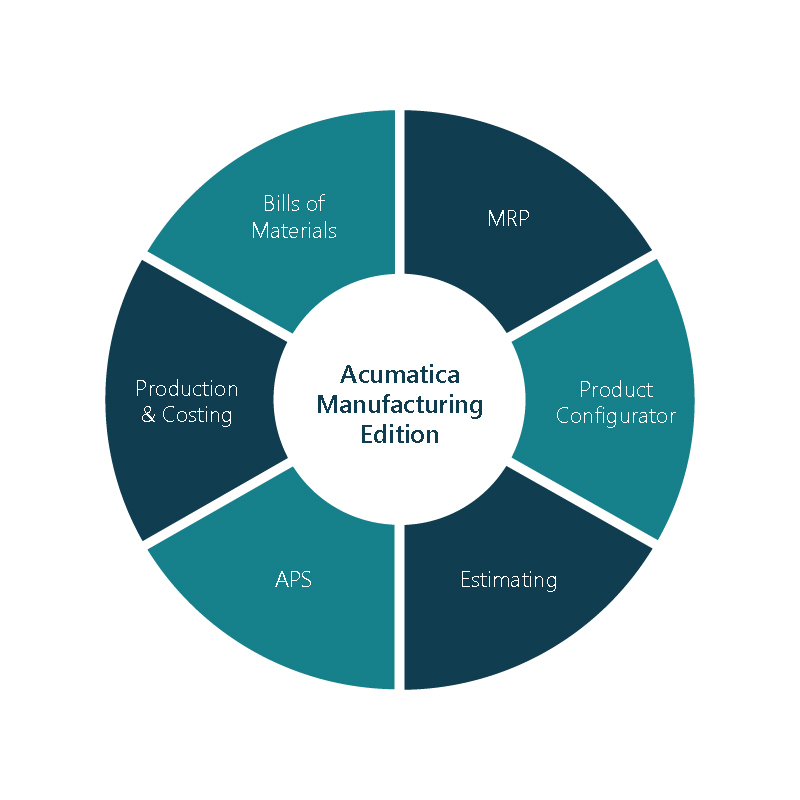 How industry-specific software increases efficiency
Industry-specific software helps you save time
Your employees lose productivity when they shift between a variety of software and applications to complete tasks. They may need to re-enter data across each different application to keep the information accurate — which wastes time and introduces room for error.
Industry-specific software provides your employees with the tools they need to perform their daily tasks on one platform. It is built with their specific needs in mind and designed to be user-friendly to improve efficiency.
Going back to our ERP example, cloud-based ERPs additionally enable virtual access to real-time data quickly from anywhere at any time. This helps reduce repetitive tasks, centralize data, and empower everybody in your organization to make informed decisions from a single source of truth by integrating your people and processes together onto one platform.
Industry-specific software scales with your business
When a company uses generalized software, the application often will not be able to organically grow with the company. Instead, you will have to constantly register for more accounts, upgrade to additional plans, or find a new software to keep pace with the rapid changes in your industry.
Industry-specific software offers cost-effective solutions as your business grows to add new users, functionality, and reporting. The option to add features, integrations, or modules allows you to customize your industry-specific solution even further as the needs of your company change and grow over time.
Another option is to migrate to a single cloud-based ERP. These platforms release regular updates and update automatically to help you remain agile in today's rapidly evolving business environment.
How industry-specific software makes your business more resourceful
Industry-specific software integrates data into one network
You won't have to worry about entering data multiple times when you invest in industry-specific software. This solution will enable you to access your data from one network even as your business grows to add new information and locations — saving time, decreasing errors, and enhancing productivity.
Additionally, a cloud-based ERP solution centralizes your enterprise information and enables you to create and share documents, track, and analyze statistics, or manage products and inventory through one virtual location.
Virtual access enables anyone on your network to access real-time data from anywhere, which improves efficiency, increases productivity, and reduces room for errors.
Industry-specific software reduces costs
Many business owners may be intimidated of migrating to an industry-specific software solution because of the initial cost. Although it might be expensive to make the transition, industry-specific software can save you money in the future by improving the productivity of your workforce, streamlining workflow, and providing you with cost-effective options to expand functionality as needed.
If you choose to transition your operations to an ERP, employees will no longer lose time switching between applications or waiting for updates. Instead, they can streamline tasks on a platform customized to meet their unique needs. This increases productivity, boosts performance, and gives them the time they need to develop new skills.
What are the next steps?
Companies must embrace new technology to remain leaders in their respective industries. Investing in industry-specific software, such as an ERP, will increase collaboration, optimize profit, and enable you to make informed decisions to support the success of your business.
MNP Digital has the experience to help you explore industry-specific software solutions for your business. Our Digital Platforms experts don't just source and tailor your platforms — we also have the knowledge to customize your ERP solution further as a partner of Acumatica, Microsoft, and Sage Intacct.
Each vendor has developed highly functional, dependable, and integrated ERP technology to meet the unique needs of businesses in many different industries. Contact our Digital Platforms advisors to learn more about each product, or to request an in-depth assessment to determine which platform might best suit the needs of your industry.
Contact us
Reach out to our team of experts today to schedule a free consultation to discuss your challenges and potential solutions.