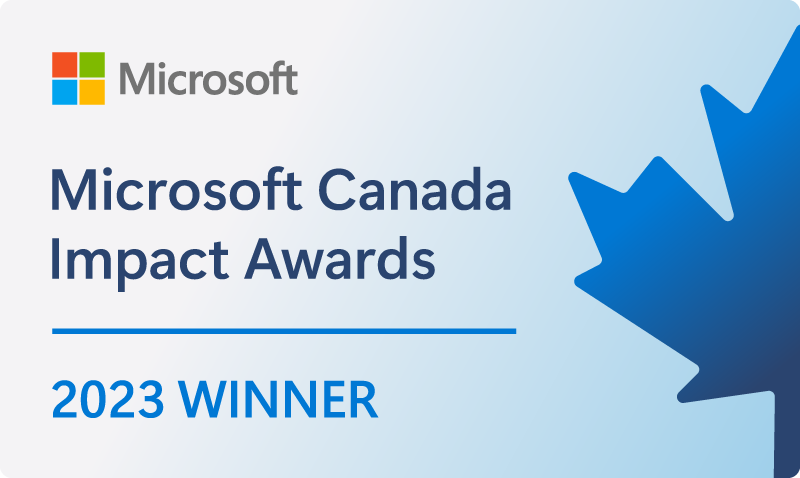 Calgary, Alberta, Canada — July 6, 2023 — MNP Digital today announced it has been named winner of the 2023 Microsoft Canada Power Platform Impact Award and a global finalist of the 2023 Microsoft Low Code Application Development Partner of the Year Award. The company was honoured among a competitive field of top Microsoft partners for demonstrating excellence in innovation and implementation of customer solutions based on Microsoft technology.
"Being recognized on the global stage by Microsoft for the collaborative engagements we've led with our clients over the last year is truly outstanding," said Sean Devin, MNP Digital National Leader. "Our clients trust us to deliver transformative services that enable increased agility, productivity, and innovation. Microsoft's platforms, tools, and ecosystem streamline that delivery, especially low code development through the Power Platform, creating an atmosphere within our organization and with our clients that push all of us to continue striving for more."
Assessed based on a set of specific criteria by Microsoft, MNP Digital was selected as an Impact Award winner for their track-record of delivering dynamic Power Platform solutions that accelerate customer innovation with low code application development. MNP Digital has also been awarded by Microsoft in the past for their innovative solution and industry contributions. "By teaming up with Microsoft we've been able to create something unique across Canada and in the global marketplace," highlighted Sean Devin.
"We are pleased to recognize MNP Digital as this year's recipient of the Power Platform Impact Award," said Harp Girn, Vice President, Global Partner Solutions, Microsoft Canada. "Our partners are the backbone of our company and have demonstrated excellence in innovation and harnessed Microsoft's solutions to enable customers to achieve more. We take great pride in the diversity of our ecosystem and look forward to celebrating their outstanding achievements."
Additionally, the Microsoft Partner of the Year Awards recognize Microsoft partners that have developed and delivered outstanding Microsoft-based applications, services, and devices during the past year. Awards were classified in various categories, with honorees chosen from a set of more than 4,200 submitted nominations from more than 100 countries worldwide. MNP Digital was recognized as a finalist for providing outstanding solutions and services for all their low code development clients.
"Congratulations to the winners and finalists of the 2023 Microsoft Partner of the Year Awards!" said Nicole Dezen, Chief Partner Officer and Corporate Vice President of Global Partner Solutions at Microsoft. "The innovative new solutions and services that positively impact customers and enable digital transformation from this year's winners demonstrate the best of what's possible with the Microsoft Cloud."
Established over 60 years ago, MNP is one of the largest professional services and consulting firms in Canada. Proudly providing a full suite of services to clients in the public, private, and non-profit sectors, MNP is headquartered in Calgary, Alberta, with a strong local presence across the country. MNP Digital is the fastest growing part of MNP's consulting practice, providing strategic advisory services as well as specialized expertise and experience to guide, protect, and empower organizations along their digital journey.
For additional information:
Nick Greenfield
Partner, Senior Vice President, Marketing
[email protected]
403.536.5552
Product or service names mentioned herein may be the trademarks of their respective owners.