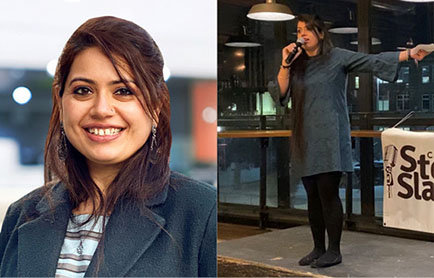 Celebrating diversity at MNP – meet Amanjot (Aman) Kaur: a dedicated community volunteer, passionate chef, public speaker, storyteller, diversity advocate, and trusted Digital Enablement Specialist at MNP.
Aman was raised in a small town in north India and had been taught by her mother and aunt to shatter glass ceilings and dream big. After obtaining her engineering degree, she harnessed a brave spirit, packed her bags, traveled solo, and immigrated to Calgary, Alberta in 2018. Aman is passionate about creating inclusive environments to share stories and celebrate differences. Whether it was during her role as a former president of Toast Masters International in India, hosting her own open mic nights, participating in Calgary Stories Slam, volunteering at the Calgary Public Library, TedX Calgary, the Calgary Immigration Society, or expressing her stories on social media, Aman thrives in putting her thoughts into words to build a community of belonging wherever she goes.
She recently revealed on social media that over time in Canada, she stopped correcting people on the pronunciation of her name. It became part of the routine to make it easier for others and she didn't realize how this simple act had affected her until a VP at MNP "stopped in the middle of a presentation, paused and asked [her] the correct pronunciation of [her] name". Aman quickly felt the heartening impact of this simple action and was reminded to stand true in her identity. "I bring my full self to work and having that authenticity and being in alignment with my life is what fuels me and empowers me."
Thank you Aman for sharing your story and encouraging others to be brave about who they are within and beyond MNP!