After decades of running dozens of successful dealerships, Joe Zanchin is passing the torch to the next generation
For nearly 50 years, Joe Zanchin has been building Zanchin Automotive Group from the ground up. An Italian immigrant, Joe came to Canada with unwavering determination to provide for his family.
Now, with 35 locations selling new and used vehicles from more than a dozen auto makers across the GTA, Joe is ready to pass on his legacy, and wildly successful business, to his two daughters.
Laura and Andria Zanchin, both executive vice presidents of Zanchin Automotive Group, will be taking over the business and have been working closely with their dad and MNP tax Partner Eddy Burello to make the transition as smooth as possible for all involved.
"Working with Joe has been incredible because Joe is an immigrant. He came over without the ability to go and buy so he created," Eddy says.
"He had to provide for his family so it started out of necessity, of trying to figure out a better way. He got himself into the business and he did well… Joe is a very astute individual and he quickly assessed how he can grow the business and capitalize on the opportunities."
It's this success and understanding of the industry that's enabled the Zanchin family to push forward, looking past Joe's retirement towards the future of the family business.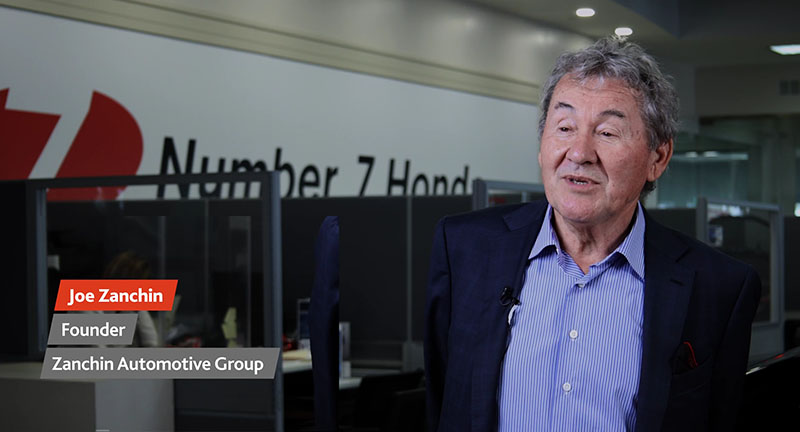 Succession comes in many forms
Eddy says while succession planning can look different for each individual organization, whether you're handing it off to the next generation, selling to a third party, or closing shop altogether, every business needs to address exit at some point.
"As a service provider, MNP can assist in multiple areas and there's various touch points… We have teams that can help with performance improvement, increasing profitability and the like. We have people that can help in corporate finance and selling the business. With an exit of any type, tax is always an issue so we have a tax team," he says.
"Depending on where they're at in age and stage you can bring the various teams together to help that client."
Succession come with unique emotional and financial impacts, especially when handing down the business to family members. Trusting the decision and the process can be a difficult, but ultimately rewarding task.
For Joe and his daughters, having a third party to keep communication lines open, expressing expectations and offering insight has been helpful throughout the process.
"Joe understands that Laura and Andria will want to operate the business differently with the same ultimate objective of success and growth to pass it onto the next generation," Eddy says. "Joe will guide them and provide his counsel but at the end of the day, he will let them run it in a different fashion."
The journey of succession can be a long and difficult path but building relationships with our clients enables MNP to ensure they're ready for all bumps in the road and have a trusted advisor to celebrate victories with.
"When we deal with succession, it doesn't just occur on one level. For example, Joe's CFO is getting to an age and stage where he's retiring so we assisted with finding other people," Eddy says.
"Knowing the whole organization is important and building a longer-term relationship works both ways. It's a journey, it doesn't happen immediately, but it's an incredibly powerful one if done well."
The commitment to the client goes well beyond the initial phases of succession planning and support through execution, Eddy says.
"The process never really completes itself; it morphs into a different processes and initiatives. As Andria and Laura take control of the business, they're going to want to see different initiatives, go in different directions," Eddy says. "And so, the process continues and we at MNP keep abreast of the information they're looking for to make business better. Clients will often come back to get insight as the business evolves into different directions and because people operate differently, it will draw on our specialties in various fashions."
There is no one clear path or right way to execute succession but with the help of an MNP professional, your goals can be realized.
Contact us
For more information, contact Chris Schaufele, MNP National Leader, Dealerships.