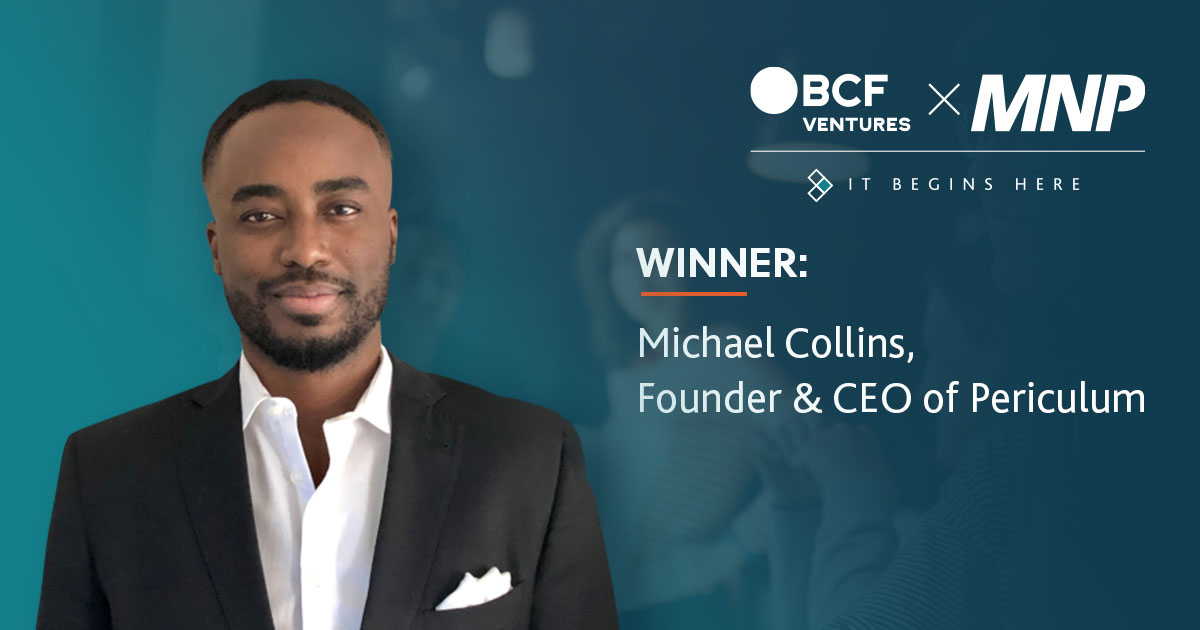 This year, we had the honor of honouring Michael Collins, Founder and CEO of Periculum, as the inaugural winner of the BCF Ventures x MNP NextSteps Program & Pitch Competition.
Our team recently had the opportunity to sit down with Michael for a deeper dive into his business, background, and entrepreneurial journey — and to find out what his plans are now that he's a NextSteps winner.
For those who didn't get to hear your pitch, what is Periculum?
Periculum is a top provider of data analytics and alternate credit assessment services, targeted explicitly to underserved markets. We help our financial institution and lending customers reduce lengthy loan application processing times and default rates so they can offer more loans to more underbanked and unbanked consumers and businesses.
We use AI and machine learning technologies to rapidly collect and assess financial and non-financial data such as bank statements and demographic data to determine creditworthiness and predict default risk.
What is the drive and inspiration behind your business?
Working in the Canadian banking industry, I saw firsthand how and why we rejected some customers that applied for lending products. Most were due to poor credit histories, but some were due to little or no credit histories — what we called "thin file."
That didn't mean this group of prospective borrowers would have defaulted on loans. The traditional credit bureaus simply didn't know how to assess them. Many were immigrants like myself.
About one in 15 North Americans are underserved by the banking and lending sector. If you widen your focus and look at emerging markets in Africa, Latin America, and Southeast Asia, you will realize the need is even greater: about one in three are underserved. None of the incumbent credit companies have any solutions that work well in these markets, so I thought there had to be a better way.
What has your start-up journey been like thus far?
It has been bittersweet. I've gone through many ups and downs, especially being a black founder. This journey has taught me to be resilient, persistent, and focused on the mission regardless of the obstacles in my way.
Immigrating from Nigeria, I feel fortunate for the opportunity to be a Canadian. I'm happy for the opportunity to help solve this massive global problem and to participate in great programs like NextSteps. Plus, I have a great supporting cast which definitely helps to share the load and keep me motivated.
How do you hope that winning the NextSteps Program will help the future of Periculum?
The mentoring, guidance, and advice from MNP and BCF will be huge for us. Just working with these two firms in any capacity is a big deal. When you add the cash prize and technology credits from OVH cloud, we now have the ability to push Periculum to the next level.
What is your five-year vision for Periculum?
We will have a massive footprint in Africa, Latin America, and Southeast Asia, providing our software solutions to local lenders and financial institutions. We will help unlock billions of dollars worth of credit to people in these markets and help with financial inclusion initiatives that will help alleviate poverty.
I also see us having a huge liquidity event like an IPO, which will help us expand even more.
What are your NextSteps?
MNP, BCF Ventures, and all our program partners have been overwhelmed by incredible entrepreneurial drive and ideas we heard from Michael, his fellow finalists, and all our 2021 participants. There are great things happening in the Canadian start-up community and we can't wait to crown another winner in 2022.
Think you and your business have what it takes to be a NextSteps winner? Start preparing your pitch now and keep an eye out for our program launch announcement coming soon.
To learn more about Michael Collins, Periculum, or the NextSteps Program & Pitch Competition, contact Massimo Iamello at [email protected].