MNP is proud to announce the recipients of the annual MNP Future Leaders mentorship program who are partaking in a business opportunity of a lifetime! Congratulations to Erika Reyes, CEO & Co-Founder of Inwit, Frederick Redding, Founder of Detail Guys, and Stephanie Manica, Founder & CEO of iPOTS.
Along with the prestige of being recognized as an MNP Future Leader, Reyes, Redding, and Manica will each receive one year of monthly professional mentorship, guidance and advice from an MNP partner, year-long memberships at participating boards of trade and chambers of commerce, a consultation with media experts, and profile enhancement strategy.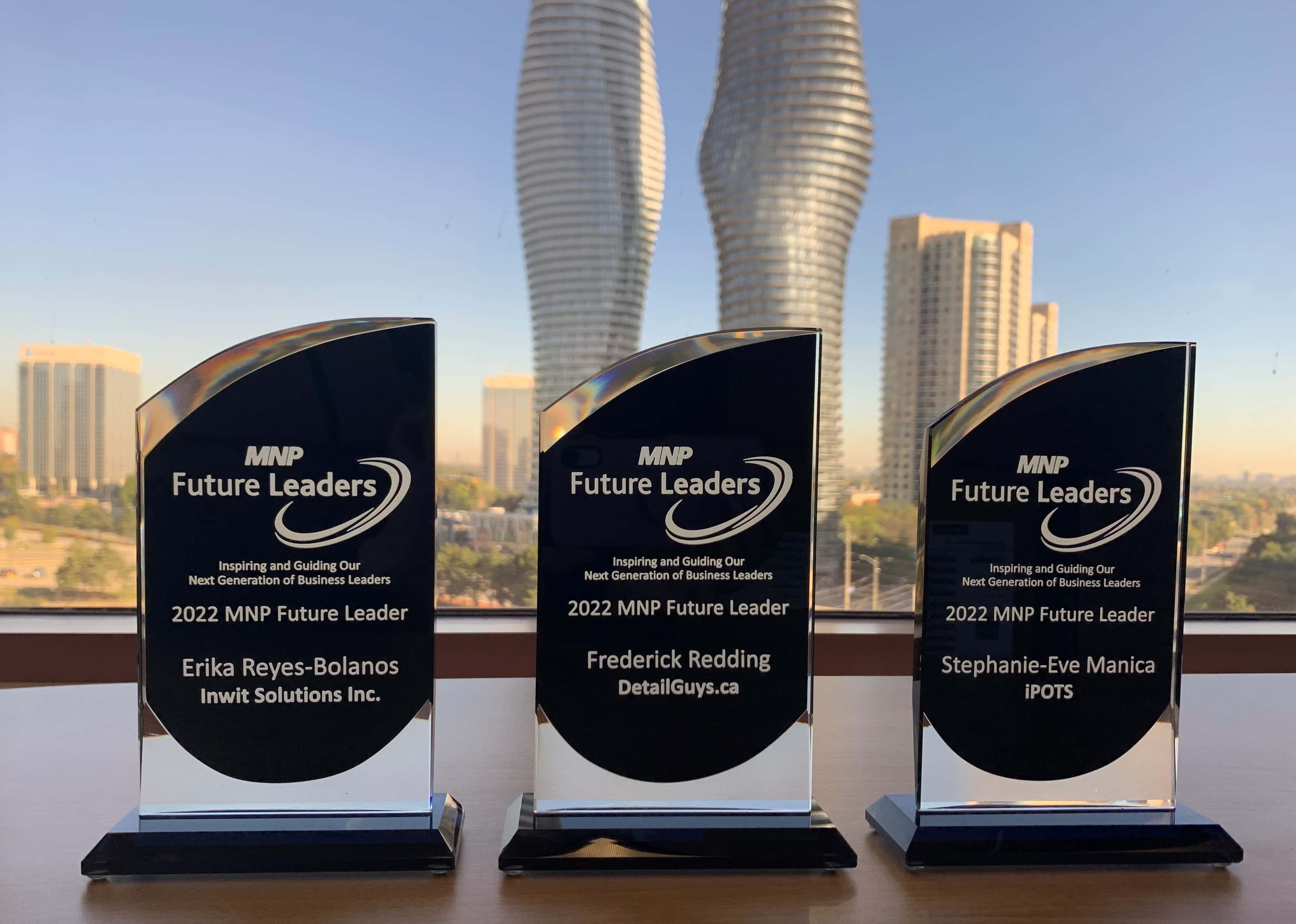 MNP, one of Canada's leading professional services firms that provides accounting, consulting, tax, and digital services, is joined in this initiative by key community partners, including City of Brampton, City of Mississauga, Town of Oakville, Brampton Board of Trade, Mississauga Board of Trade, Oakville Chamber of Commerce, Sheridan College, Toronto Metropolitan University, University of Toronto Mississauga, and Star Metroland Media.
MNP mentors tailor their advice to the individual needs of each winner and can advise on strategic business plans, scaling a business, establishing competitive benchmarks, and identifying process improvement opportunities.
"MNP is proud to support our local business communities and young business leaders with this mentorship program," says Jim Molyneux, Regional Managing Partner for MNP in Peel Region. "We created the MNP Future Leaders mentorship program to assist young business leaders as they build their entrepreneurial enterprises and succeed on their own terms. We wanted to provide invaluable mentoring by top-notch professionals to support young entrepreneurs in their efforts to achieve business success and reach their end goals."
Erika Reyes
CEO & Co-Founder of Inwit
Erika Reyes' Zero Waste Takeout App couldn't come at a better time as restaurants begin to reduce the use of single use plastics. Inwit is Canada's first Zero Waste Takeout App, offering an innovative solution to single use plastics. It is a reusable container borrowing system with a rewards component and a food ordering platform.
"I became an environmentalist by accident," admits Reyes. "Eight years ago, I wasn't connected with sustainability at all, and one day, I saw a documentary on plastic pollution which opened my eyes to the problem. My goal in starting Inwit is to offer a spark of inspiration and help others, like me eight years ago, see that it's not too late to take climate action. It's a change that done together can be fun and engaging!"
Each stainless-steel container has a trackable NFC tag. "We use the same technology that's used when you borrow a library book," says Reyes. "You create an account online and order from one of our restaurant partners for pick up, and your food is served in Inwit reusable containers. Once you are done, you give them a quick rinse and return them to any participating location within a seven-day period. The faster you do so, the more points you can collect".
They also offer Zero Waste corporate meals with a delivery and empties collection service for orders of 15 plus people.
Asked why she applied to the MNP Future Leaders program, Reyes answers: "I am a newcomer, a woman, a person of colour. The MNP Future Leaders mentorship program will provide personalized strategies with a local perspective to advance Inwit's mission. Together, with the participating cities, media outlet, chamber of commerce, and boards of trade, we will gain the support needed to advance zero waste packaging in the food industry in our province and around the world. I hope to gain support from MNP to ensure Inwit can scale its mission in the fastest and easiest way. Having access to the knowledge they have acquired by working with so many companies in so many industries, will help us take advantage of opportunities, minimize risk, and gain insights to make better, more informed decisions. This is the main pillar of support we are looking for from the MNP mentorship program."
One of the main challenges Reyes faces involves changing the habits of restauranteurs as well as consumers.
"What we are attempting to do is change human behavior," says Reyes. "It's an industry that has always relied on single use plastics and packaging. We are accustomed to the convenience of using something for five minutes and then throwing it into the recycling or garbage bin. We need to change both the system and consumer behaviour. Our biggest challenge is providing incentives to both users and the restaurant industry, that make sense for their business and that bring value to both of them."
Reyes is looking for guidance from her MNP mentor, Brad Bida, to take her business to the next level. "The biggest positive outcome I am seeing is accountability. Having a mentor makes you accountable and he (Brad) is asking all the right questions. He helps me to stand back and see the bigger picture, allowing me to see if we are on the right track. We know the MNP Future Leaders program will bring valuable outcomes. Today, we have over 500 users, and in five years we hope to serve Toronto and other cities in Canada. In 10 years, we want to become the leading sustainable marketplace in the world. Our biggest hope is that we inspire people to take climate change action by creating a community that believes that sustainability is not just the right thing to do, it's the most rewarding gift in life."
For more information, visit www.inwit.ca.
Frederick Redding
Founder of Detail Guys
As Founder of Detail Guys, Frederick (Fred) Redding attended Glen Abbey Golf Course as a co-sponsor of the Oakville Chamber of Commerce Golf Tournament. There, he met two MNP representatives who told him about the MNP Future Leaders mentorship program.
"I looked into the program and realized that MNP could touch on all of the elements of entrepreneurship and that they really understand how to grow a business," says Redding. "I am so fortunate and grateful to be named as one of three 2022 MNP Future Leaders and to be recognized by such a reputable company. Every entrepreneur has a vision, and the biggest value I will gain from the MNP Future Leaders program is receiving help with establishing a clearer path to growing my business while avoiding pitfalls. The real value is the one-on-one mentorship opportunity I will receive from my MNP mentor, Tyril Froese. With their knowledge and expertise, MNP will be a catalyst to propel the business forward."
Detail Guys specializes in delivering premium mobile detailing services in the automotive sector. The inspiration behind Detail Guys came at the start of the pandemic when Redding noticed an increasing demand for sanitation services.
"The first phase of our business' vision is nearly complete," states Redding. "About a year ago, I was driving down the road and noticed a Mobile-Tire truck providing a tire changing service directly on a neighbour's driveway. I instantly thought, what an excellent marketing concept, what if we could create a direct-to-consumer service where you simply call 1-800-DETAILS and we come to your home anywhere in Canada to detail and restore your vehicle. Every vision starts somewhere, and I guess mine was inspired in that moment."
Currently, Detail Guys services the Oakville and Halton Region, but Redding is looking for guidance from his MNP mentor on how to scale the business nationally. "We hope to have two units in the Greater Toronto Area, and with Tyril's expertise and guidance, we want to set the course for expanding to another major metropolitan like Calgary or Vancouver. It would be amazing to work towards providing a nation-wide opportunity for potential business owners across the country."
For more information, visit www.detailguys.ca.
Stephanie Manica
Founder & CEO of iPOTS (improving POTS)
It was when Stephanie Manica was diagnosed with Postural Orthostatic Tachycardia Syndrome (POTS) and discovered the lack of information and resources, that she decided to do something about it. Manica is in the process of opening a non-profit charity called iPOTS—Improving Postural Orthostatic Tachycardia Syndrome. POTS is an abnormal increase in heart rate that occurs after sitting up or standing and often causes dizzy spells, fainting, and brain fog.
"After being diagnosed with POTS in 2018, I struggled to find resources and support to improve my health," states Manica. "I did the only thing I know how to do and dove deep into medical literature and found out as much as I could about the condition and how to improve it. I was taking in extraordinarily complex information and diluting it into everyday language to make it easy to understand. While initially doing this for myself, I saw tremendous improvements and wanted to share this with others suffering from POTS so they too could reclaim their lives."
Manica applied to the MNP Future Leaders program to gain valuable insight through the personal mentorship program. "I am really excited to learn from the MNP partner (Chirag Vasa) and a diverse group of mentors that will provide an infusion of ideas and different perspectives that will help iPOTS become a trusted resource in helping people improve their lives. The benefits of the mentorship program are having regular conversations throughout my journey to strengthen what I am working on. Entrepreneurship can be isolating, but connecting with people who have done this, or something like this, before creates a sense of community."
Asked what challenges Manica is facing as a young entrepreneur, she answers: "After experiencing the ravages of life living with a disability, I now see challenges as an opportunity rather than as speed bumps. Finding funding, equipment, and registering as a non-profit/charity are all opportunities to be creative. I am excited to work with POTS on a grand scale and pioneer this field of care."
Manica is currently finding the funds to develop written, audio, and visual resources to improve POTS. "I see iPOTS becoming the go-to resource and gold standard for POTS care for patients, their loved ones, and their medical team. It is my hope that iPOTS resources will help make life easier for those living with POTS. I want people to understand that just because you are in a rough place right now, doesn't mean you're going to stay there forever. POTS is not a death sentence, it's an opportunity to learn techniques to lead a healthier lifestyle and manage symptoms. Anything is possible when you have a good attitude while trying your best. It's a lot easier to improve when you have support, mentorship, and guidance. iPOTS will provide the necessary POTS resources to make this journey easier."
For more information, visit www.iPOTS.org.
More information
For more information on the MNP Future Leaders mentorship program, visit www.mnp.ca/future-leaders.
Contact us
MNP's Peel Region office is in the Sussex Centre at 50 Burnhamthorpe Road West, Suite 900 in Mississauga. Contact Jim Molyneux, Regional Managing Partner, Peel Region.