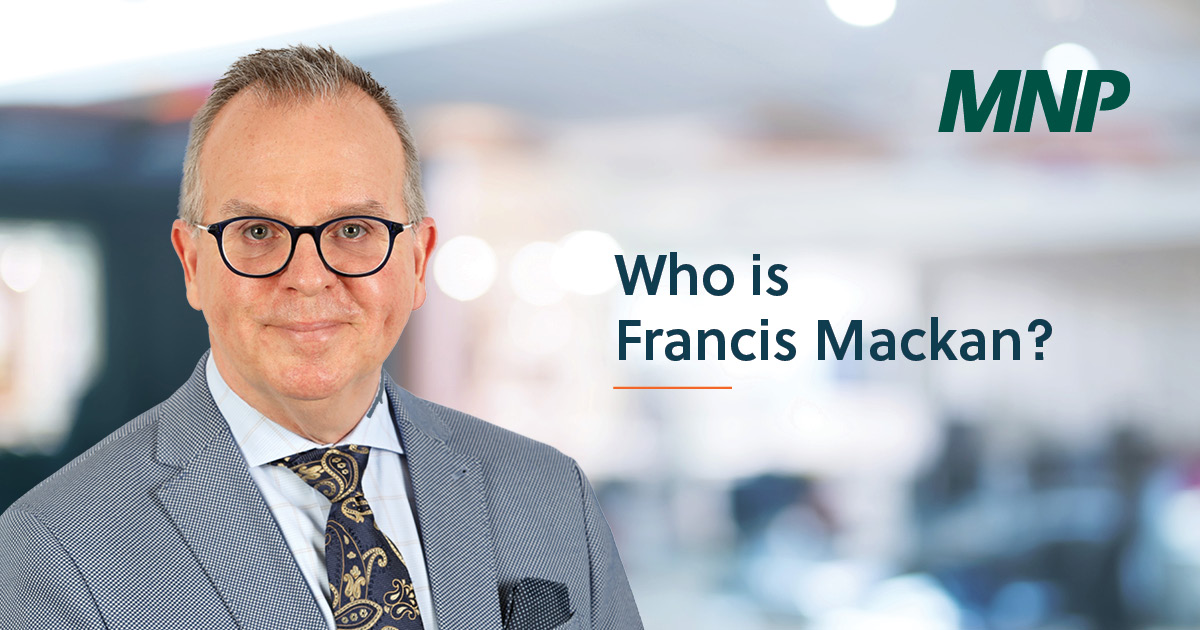 Meet Francis Mackan, a member of Burlington's Private Enterprise team. An entrepreneur at heart, Francis prides himself on working with business owners across industry sectors and helping them solve their most pressing challenges.
Learn how Francis went from living in Northern Ontario to building decades-long relationships with business owners in Southern Ontario.
Did you always want to be an accountant?
Not always. I was born and raised in Sault Ste. Marie and I'm the youngest of 10 kids. My dad was a truck and bus driver and union man. The expectation for me was that I would graduate high school and then work in the paper mill or steel plant. There just wasn't a culture of going to college or university.
We didn't know it yet, but the early 80s saw Sault Ste. Marie changing quickly. I was graduating high school during a recession and the steel industry was not strong. When I saw my friends were going to university and college, I wondered why I wasn't.
I thought about what I was good at and accounting was my best subject. Back then, to complete your Bachelor of Commerce degree and get into the field, you chose either a Math major route or more of an arts route where you studied marketing, law, and business operations along with accounting and tax. I went the arts route as I thought it would make me a more rounded person.
After 4.5 years at Brock University, I graduated the co-op accounting program, and continued with the two-partner firm in Mississauga where I worked my co-op terms. My career has seen a consistent pattern of growth since those days. I have been a partner in the smallest and largest firm in the world, with some twists and turns in between, but I'm really happy with the path I've chosen.
What's your favourite part of the work you do?
I'm an entrepreneur at heart. On graduation, I ended up buying half of that small Mississauga firm, my name went on the door, and my career began advising all manner of clients.
My entire career has been spent working with entrepreneurs, regardless of industry. I see myself as a true business advisor and I like to help people create solutions to the challenges they're facing.
Building relationships is the other big part of what I do. I joined Horne LLP in Burlington in 1997 and today I am the trusted advisor for several very long-standing Horne client relationships — some of them as long as 40, 50 and 60 years — and that means a lot to me. To be a trusted business advisor means doing more than just tax filings and financial statements. It's about listening to them and finding ways to help them achieve their goals — both personal and professional.
What are the lessons from COVID-19 for business owners?
I have a large mix of clients: some clients never stopped operating and in fact grew during the last 18 months, and some who were significantly impacted by the pandemic. The key lessons are around resiliency and flexibility, but also about the importance of relationships.
We have these long relationships with our clients and we can help them draw on previous experiences when trying to create solutions. I can talk with a business owner about what they did in a previous recession and ask if it's possible to do something like that again. This meant that business owners focused on how to pivot, not what to pivot to. We knew what the end product had to be, we just had to figure out how to get there.
Some of the conversations were significant. We're talking about permanent changes to their business operations. But when you have a long-lasting relationship, you have their trust and that trust can help businesses follow advice, ask questions, and move confidently.
If we look down the line, there's a big lesson to be learned about people. The traditional understanding of a workday and how people want to work is changing drastically. Every single company has to focus on their human capital and have honest conversations with their team members about what works for them and what doesn't.
To learn how MNP can support your organization, contact Francis Mackan, CPA, CA, at 905.315.6784 or [email protected].