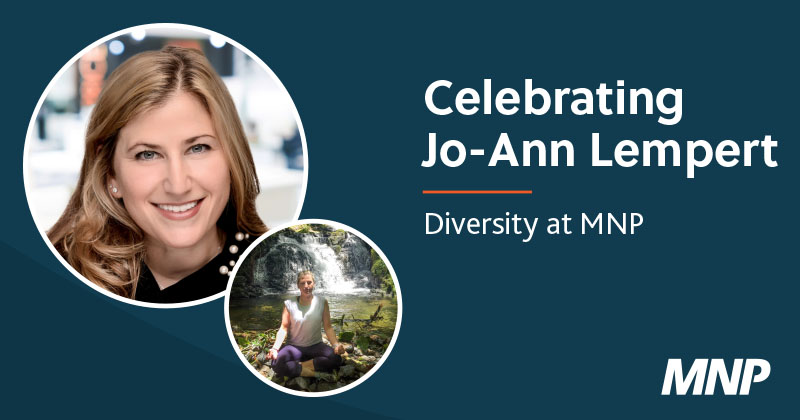 Celebrating diversity at MNP – meet Jo-Ann Lempert: a women's shelter ambassador, board member, women in business leader, mother of two teenagers and three fur babies, avid bookworm, passionate yoga practitioner, accounting professional, and Partner at MNP.
Jo-Ann is a true pioneer for women in leadership and strives to create harmony between her meaningful professional career and being an ambassador for women in her community. Jo-Ann has been an advocate for women supporting other women and wants to make the accounting field more diverse for the next generation of professionals, including her 18-year-old daughter currently pursuing her own career in accounting. Jo-Ann was proudly the first female Partner in MNP's Montreal office and the first female Board Member of Inovalis Real Estate Investment Trust and Audit Committee Chair. Jo-Ann is also an active member of MNP's national DE&I Committee and board member for a local women's shelter, Auberge Shalom.
Jo-Ann has proven you can be successful merging a passion for the community while also becoming a trusted advisor within the Real Estate and Construction team. She is currently involved with the Summit Industrial Income REIT as a Board Member, ESG Committee Member, and Chair of their Audit Committee. She is grateful MNP supports her to be involved within the community as she feels that this experience enables her to be a better professional and trailblaze women empowerment. With 20 years of yoga practice, pursuing her Ayurveda certification, and having a career in accounting, a common theme amongst Jo-Ann's personal and professional interests is balance. She believes having balance in all aspects of life is important in order to be a powerful leader of change both in and outside of MNP.
Thank you Jo-Ann for sharing your story and being an activist of change for our next generation of leaders. We are grateful for your contributions at MNP and in the community.