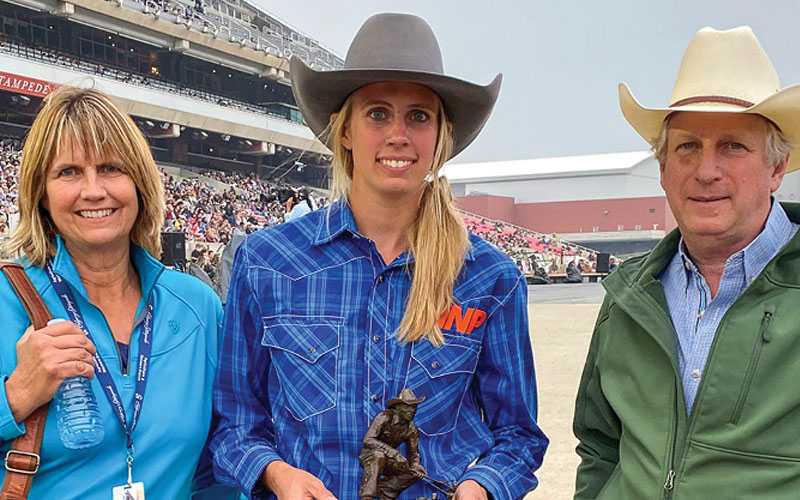 Meet Lawrie Saunders: university basketball player, avid horseback rider, member of the Canadian Girls Rodeo and CARA Rodeo associations, award-winning breakaway roper, official winner of the 2021 Calgary Stampede's Breakaway Roping event, and a designated professional at MNP.
Lawrie's passion for horseback riding and raising livestock started at an early age while growing up in a small town outside of Red Deer, Alberta with her farming family. With her big brother showing her the ropes about horses, racing, and rodeo, Lawrie began competing at the young age of six, beginning her life-long journey as an award-winning rodeo participant and competitive athlete. She was titled the Canadian High School Breakaway Champion and Alberta High School Rodeo Goat Champion before starting her university career.
As an outstanding athlete, Lawrie was offered two once-in-a-lifetime opportunities: to play for the University of Calgary (U of C) basketball team, or travel to the United States and rodeo. Knowing she would always rodeo, she expanded her court skills and became a member of the U of C basketball team, obtained her Accounting degree, and later became a coach.
While building a meaningful career at MNP, she is also an advocate for female rodeo participant rights, supporting the expansion of female rodeo opportunities, and most recently was one of 10 women invited to participate in this year's 2021 Calgary Stampede's Breakaway Roping event. Lawrie dominated the competition and remained in the lead with her impressive time and officially brought home the 2021 Breakaway Roping trophy.
Congratulations, Lawrie! Whether on the court, in the rodeo, with our clients, or the community, we are incredibly proud of these accomplishments and recent win at the 2021 Calgary Stampede. We are grateful to have you on our MNP team!
At MNP, Lawrie has been able to grow in her career, honor her roots, and continue to excel in the activities that have fulfilled her for a lifetime.