We have witnessed how family businesses have mobilized during these challenging times by looking at ways they can support their community, their staff and their customers.
In these trying times, it is also important to remember the family component. Family enterprises have three distinct components, the business, the owners and the family. This is often illustrated with a Three Circle Diagram where overlapping circles form seven distinct sectors. An individual's position in the three circles will influence their views, goals, expectations and family dynamics – all of which can cause conflicts within the family enterprise.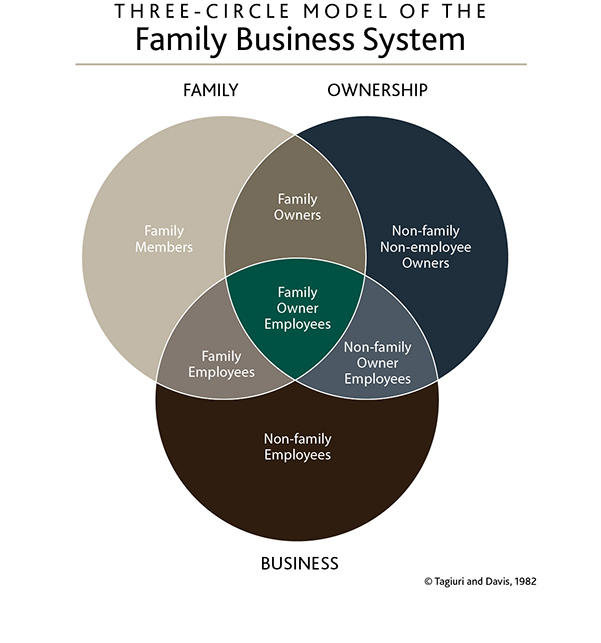 Risk management for family enterprise should include identifying and addressing risks and creating opportunities to unite the family, to help everyone understand decisions that are made in the business and that increase confidence in family and business leadership. For instance, a review of family values to reaffirm vision, mission and goals can help ground the family and guide them through times of stress and difficult decision making.
Key questions business families should ask themselves:
Family Circle
What is the family or family council doing to inform and align the entire family?
How are we communicating with family members not working in the business about the business impact and strategies?
How is the family dealing with social distancing?
Will family meetings / gatherings be delayed, or can they be done virtually?
How can we use this opportunity to educate and prepare future leaders?
What can we do to support vulnerable family members financially and emotionally?
How can we use our philanthropy assets / goals to support current needs and risk areas?
Ownership Circle
Should we increase the frequency of Board Meetings?
Is there sufficient liquidity to pay dividends?
What is our approach if owners wish to liquidate?
Does our shareholder's agreement address how issues are to be handled during a crisis?
Is this the right time to sell assets or make additional investment in business assets at a lower price?
Business Circle
Is our communication strategy and approach with customers and staff sufficient?
Do we have the right leaders in place to lead the company through current / future uncertainty?
What are the gaps in our risk management plans or processes and can we engage outside experts to assist or train employees?
Are we equipped to enable flexible work arrangements?
Do management and leadership succession plans need to be revisited?
Successful multi-generational business families look to governance structures and family values to respond to risks, manage communications and unite family members during periods of uncertainty. Addressing key questions in each of the family, owners and business circles can help your family manage challenges today and in the future.
If you have any questions or concerns about what to do next for your family, please contact John Hughes, CPA, CA, MBA, Senior Vice President, Private Enterprise, at 416.515.3842 or [email protected]