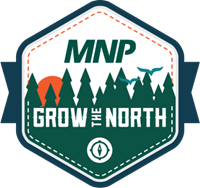 November 10, 2021, PRINCE GEORGE, B.C.
Grow the North offers entrepreneurs the chance to win up to 75 hours of professional business consulting from the MNP team in a dynamic competition spotlighting the best growth pitch. And this year the contest has expanded to include all communities north of Williams Lake, up to Terrace and Fort St. John.
"We've seen local businesses be amazingly innovative during the past year, and want to support their growth even more," says Jameel Sayani, Regional Managing Partner for MNP. "This competition shines a light on the ingenuity of the Northern B.C. business community, and its strong future."
Last year's competition saw ARC Off-Road Training Ltd., Mo'Bettah Bands Canada Inc., and Farmhouse Catering Company Ltd. take first, second and third places, respectively. All have reported strong growth and continue to draw on what they learned working with their MNP advisor.
"Qualifying as a finalist in the Grow the North contest and working with MNP has helped us focus our energy and resources to realize marked improvements in our business," said Chad Achtemichuk, owner of ARC Off-Road Training. "Participation in the contest and working with MNP can help provide your business with resources that may otherwise not be available to you at this stage. I recommend any small business interested in growth and improvement take the opportunity to enter the Grow the North contest."
As an entrepreneurial firm built for entrepreneurs, MNP is proud to support our local businesses by providing the advice and tools they need to succeed in a rapidly changing business environment.
Grow the North
The first stage of Grow the North involves six semi-finalists from each region presenting a virtual pitch to MNP. The top nine contestants will be selected to meet with an MNP business advisor for preliminary advice in preparation for the final stage. That will see each finalist pitch their proposal to a panel of judges in Prince George.
Registration for this exciting competition closes February 1, 2022. The final pitch will take place March 11, with the top three pitches being announced March 18, 2022.
For more information about Grow the North, please contact MNP's Sydney Hall at [email protected] or 250.564.1111
About MNP
MNP is a leading national accounting, tax and business consulting firm in Canada. We proudly serve and respond to the needs of our clients in the public, private and not-for-profit sectors. Through partner-led engagements, we provide a collaborative, cost-effective approach to doing business and personalized strategies to help organizations succeed across the country and around the world. For more information, visit www.mnp.ca