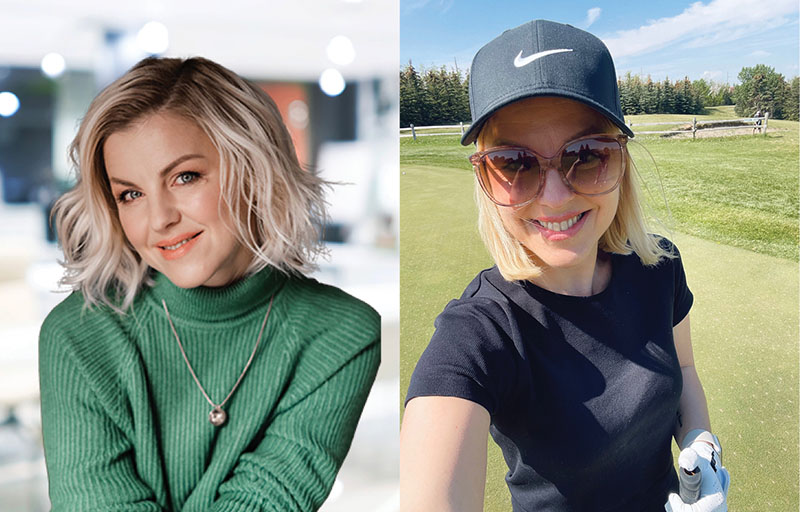 Celebrating diversity at MNP – meet Olha (she/her): new Canadian immigrant, mother of two, daily yoga and meditation practitioner, novice golfer, reader, and Assistant, National Human Capital with MNP.
In the face of adversity, Olha travelled halfway across the world from Ukraine to Canada in 2022, accompanied by her two sons, Igor and David. It was one of the most challenging decisions Olha had to make, saying goodbye to the life they had known, seeking refuge and a new opportunity to build a promising future for her family.
Residing in Bucha, located 20 kilometres outside Kyiv, the capital of Ukraine, the war started here. As a proud Ukrainian, she is not one to stand down from challenges in life. "When [the war] first started, I decided I will not leave my country. I will be here. Along with many other courageous Ukrainians, I volunteered in the hospital and helped the soldiers." It wasn't until a tank shell flew into her apartment that she felt a great threat to the lives of her children. With the weight of her role as a mother, Olha gathered the strength to search for a lifeline out of Ukraine. "My duty is to be responsible for myself and my sons. But I didn't know where I can go. In just one evening, I used my phone and tried to find somewhere that is good and can help us."
Known for its vibrant economy and growing communities, Canada provided the ideal setting for Olha to write her next chapter in life. Having over 10 years of professional experience in the energy, banking, and retail sector in Ukraine, she was confident she could apply her skills and resume toward her aspiring career goals. Through her industry and employment research, she discovered MNP and was motivated to apply after learning about the company's values. "[As a newcomer,] sometimes people want any job, but I don't. I am focused on high work standards and was looking to find a company that resonates with me in spirit and values." Since joining the Firm in April 2023, her decisions were further reaffirmed through a welcoming and supportive onboarding experience in the Calgary National office. "I am happy to work on such a professional, supportive, and positive team that I am a part of."
As Olha continues to navigate a new life in Calgary, her story serves as an inspiration to the power of resilience and the determination to overcome obstacles and conquer the path ahead. She shares with us her perspective when facing hardship, "I think all of us have different challenges in life, I see it as just a period of change. I feel here [in Canada], you always have the opportunity to change something if you want. I have hope."
Your bravery and strength are truly inspiring, and we are grateful you have joined MNP, Olha.