Integrated Business Solutions
Conducting business in Canada offers a wealth of advantages for organizations both domestically and internationally. But it also can be challenging, particularly for companies with offshore assets and shareholders, or which are headquartered abroad. MNP offers you the in-depth knowledge of Canadian and U.S. tax and regulatory environments you need to be competitive while meeting compliance.
The following aspects of Canada require careful consideration from foreign investors:
Market expertise: knowledge of and sensitivity to consumer attitudes, buying habits and styling nuances is required; some foreign investors may find it difficult to market specialist products because of the size and diversity of the North American marketplace.
An extremely competitive and innovative market: This requires careful monitoring in order to meet rapidly changing demand, both from consumers and potential employees.
A highly-skilled workforce: Canadian workers often have highly trained, resulting in higher annual compensation in many employee categories, which a foreign investor may not be accustomed to.
At MNP, we are committed to helping you succeed by providing critical, but often overlooked insight into differing employment, consumer and cultural practices you need to compete in Canada.
Whether your business is based in China or Canada, our China Services team offers hands-on experience working in both countries. Our experienced partners and advisors have extensive backgrounds serving public companies and private enterprises with their business and specialty tax needs -- and know what works in one country may not work in the other.
欢迎您关注明诺全新的微信公众平台
在此平台上我们将分享:
加拿大税务政策更新
财务、税务热点话题解析
企业困境解决方案
明诺中国业务团队联系方式
最新线上讲座信息
请扫右方二维码关注我们!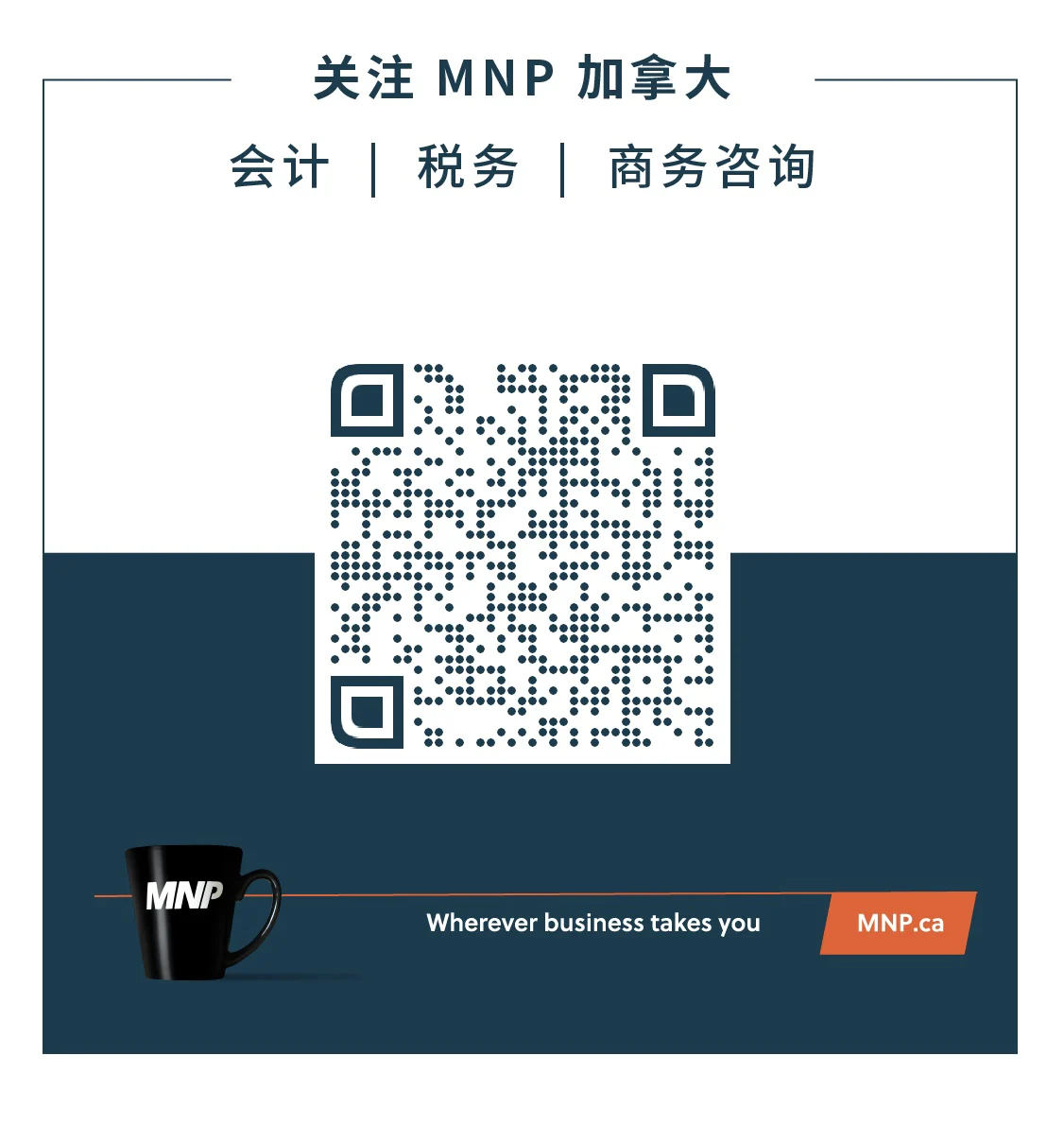 Solutions for Your Success
Our services are tailored to meet the unique requirements of the Chinese business community, and include:
Provincial Nominee Program (PNP) Solutions

Whether you have a Public Listed Company, or a Canadian-controlled Private Corporation (CCPC), our advisors can help. MNP is also one of a very limited number of accounting and business consulting firms that have been approved by provincial governments to conduct financial-net-worth verification as part of the Canadian Government's Provincial Nominee Program (PNP). Our experienced PNP experts will take you through a partner-lead process from start to end, to ensure a stress-free and personalized experience.

We ensure you have the timely, meaningful and reliable financial information you need to make decisions with confidence, while meeting regulatory obligations in Canada and abroad. Our services include: Audits of companies listed on the Toronto Stock Exchange and Toronto Venture Exchange and of their subsidiaries, Compilation of financial statements, Financial projections and forecasts, Internal control assessments, Support and transition to International Financial Reporting Standards   

As tax regulations are continuously changing, it is important to consult with a team of advisors who will ensure you comply with these laws and pay the least amount of tax possible. MNP's Tax services include: Canadian corporate and personal tax planning and compliance, International corporate tax planning and compliance, International transfer pricing, Cross-border tax services, Expatriate tax services, Impact assessments of tax treaties on business structure  

Whether it's assistance in selling your company, financing to fund your growth strategy, due diligence on an impending transaction or other merger and acquisition activity - you require innovative and effective corporate finance solutions tailored to your specific needs. Our services include: Acquisitions, divestitures, mergers, Due diligence, Financing, Transaction advisory services  

We provide a full suite of corporate governance, risk management, regulatory compliance and operational effectiveness services. Whatever your specific needs, we will work with you to implement a tailored, cost-effective risk solution. Governance and Risk Management Internal Audit and Controls Technology Risk Business Resilience  

Valuation, Forensics & Litigation Support

Whether working directly with your business leaders or in tandem with your legal counsel, the information we provide increases your organization's capacity, capabilities and credibility. Valuations for business transactions Valuations for financial reporting Forensic investigations Compliance and risk management Litigation support and dispute resolution 
Contact Our China Services Team
Jenny Lee

CPA, CA

Partner, National China Services Leader
Jenny Lee, CPA, CA, is a Partner with MNP's China Services Group in Vancouver. Jenny works with public companies, private companies, owner-managed businesses and not-for-profit organizations.
In public practice since 1998, Jenny has a broad range of experience in the mining, oil and gas, biotechnology, high-tech, manufacturing and medical research sectors. In addition to Canadian and US clients, she has clients all around the world in Europe, Africa, South America and Asia. The services she delivers include audits, reviews, taxation and accounting.
Prior to joining MNP, Jenny worked for another mid-sized accounting firm, one of the big four firms and started her own practice in 2006. Over the course of her career, she has gained public accounting experience with public and private companies and not for profit organizations in different industries. She is fluent in English, Cantonese and Mandarin.
Jenny has been a Chartered Professional Accountant (CPA, CA) for over 19 years and has a Bachelor of Commerce degree from the University of British Columbia.
Laurence Wang

CPA, CGA

Partner
Qingchun Lu

CPA, CGA

Partner, Assurance & Accounting Services